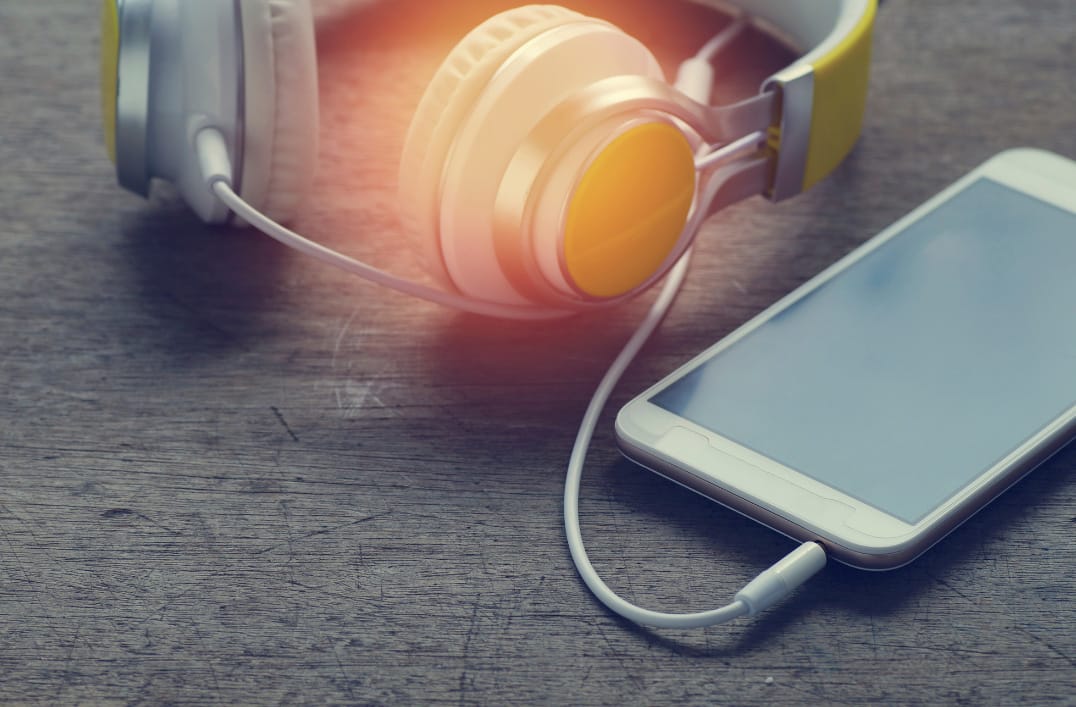 Clubhouse vs. Podcasting: Is the Invite-Only Chat App the Better Way to Get Your Brand Heard?
To record fully produced, high-quality podcasts or host invite-only, audio-based, livestreamed chat rooms? That is the brand-building conundrum as of late. We break it all down.
Barely two years old, audio-based app Clubhouse is the new kid on the block demanding the spotlight in the social media space. A social media platform that encourages live, in-real-time, audio-based conversations, debates, presentations, interviews, lectures, and more, Clubhouse has digital marketers and content strategists deciding if they should silence their podcasting efforts. What is Clubhouse, you may ask? Think podcasting, but live – not pre-recorded, edited, or uploaded. Clubhouse is an invite-only tool that features user-hosted chat rooms with a few to thousands of people who can either choose to listen or join in on the discussion – all in real time. Topics can be politics, hard-hitting news, hot-button issues, social and culture conversations, current events, trends, and more. Sounds cool, but is it worth your brand strategizing time and effort?
Like a social media-inspired radio station, Clubhouse offers real-time excitement, while, conversely, podcasts offer on-demand listening at the user's convenience – anytime, anywhere. According to Data Source, 36% of those surveyed prefer listening to the tried-and-true podcasts, while only 25% said they would prefer participating in newcomer Clubhouse's audio chat rooms. Interestingly, 39% reported to never having used either platform, which gives Clubhouse a significant portion of Internet users they can tap into. With the first episode recorded back in 2004, podcasts have been making cyber waves for nearly 20 years and have categorically made its stake in the digital space with over 2 million podcasts currently available. The podcasting business is only growing and shows no signs of slowing down anytime soon. But, with every success story comes a contender hungry to steal its spot in the limelight. Though Clubhouse is just getting started, it positions itself as being the perfect platform for experimentation. Marketers and brand strategists can use Clubhouse to see how it works with their brands and begin building a following in an app that hasn't reached the dreaded saturation point – yet. It's like getting in on the ground floor of the "next big thing."
The Power of the Podcast
Although all ages have been known to engage in a little podcasting here and there, the younger demographic makes up the majority user base for podcasts. And, podcasters are constantly finding ways to reach and retain the younger listeners for consumer-based purposes. Here are just some of the reasons why podcasting is crushing the digital marketing space:
Podcast advertisements are powerful, especially the ones delivered by the podcast host. A recent Nielson report found podcast ads generate 4.4 times better recall than display ads and 61% of consumers were more likely to purchase a featured product they heard through a podcast.
Podcasts garner major reach with 55% of the U. S. population tuning into podcasts – up 51% since 2019! While the pandemic lockdowns arguably have contributed to the spike in listenership, the medium is expected to boom even further as we head into the third quarter.
Podcasting is a long-form content model, as a majority of podcast episodes total over 60 minutes. Podcasting gives marketers plenty of valuable time to engage with an audience with an opportunity for more conversion rates.
Podcasts are an active form of engagement, while Clubhouse is passive engagement. Listeners are usually quite loyal to their favorite podcasters and look forward to weekly episode drops. This brand loyalty equates to unparalleled customer retention.
When implemented creatively and strategically, podcasts tout a proven ROI record that has yet to be beat, especially for the long-term. When part of a cohesive content strategy, podcasting boosts brand growth exponentially. Over $1 billion in ad revenue is projected from podcasts alone by the end of 2021.
Podcasts offer a sense of community around thought-provoking conversations, intelligible hosts, esteemed public figures, and beloved brands. Devoted subscribers and fervent followers inadvertently create a pathway to monetization for a podcaster, much like YouTube.
Can Clubhouse Compete with the Reigning Champ in Audio-based Content?
Okay, so we know the peerless Podcast is a legend amongst the digital domain's most ardent listeners. But, is Clubhouse a rising star you should allow your brand to spend some quality time with? Here are some convincing elements you should consider:
Clubhouse is a great app to get your brand strategy feet wet and a great way for content marketers who wish to create an audio-based presence without the sticker shock of a high-quality production. It's like podcasting on the cheap. Clubhouse offers flexibility and an experimental feel. No scripts. No downloads. No editing. It's live-streaming audio in real time with the benefits of social media as users can choose to just listen or actively participate in discussions.
Clubhouse is a perfect way to interact with customers in real time, by conducting live Q&A's with your customer base. It's a powerful way to position/elevate your brand on a platform that is still growing and evolving without getting lost in the flooded Podcasting space. If you're a start-up, particularly, Clubhouse may prove to be an indispensable way of building brand exposure at a faster rate than if you were competing for listeners' attention in the Podcast space.
Why not try both? Clubhouse is an effective way to introduce yourself and your brand into the audio-based vertical, since its short-form livestreaming. Essentially, there is no commitment. Once you feel confident speaking to and engaging with customers and potential customers, you can upgrade to a podcast format with a professional, high-production value. View Clubhouse like a stepping stone to Podcasting – start small, learn a lot, and move on up. Even better? Ask your customers what they would rather listen to and what they would like more of.
Conclusion
Whichever audio-based platform you ultimately choose – or both – there is a definite demand and promising future for BOTH platforms, as users will be using both for different needs, just as they currently do with blogging, YouTubing, Instagramming, Tweeting, Facebooking, Snap Chatting, TikTokking, and all the rest. Have you tried Clubhouse yet? If so, in what capacity and what have been your experiences with the young app? Please share your thoughts with our Social Attraction community in the comments below.